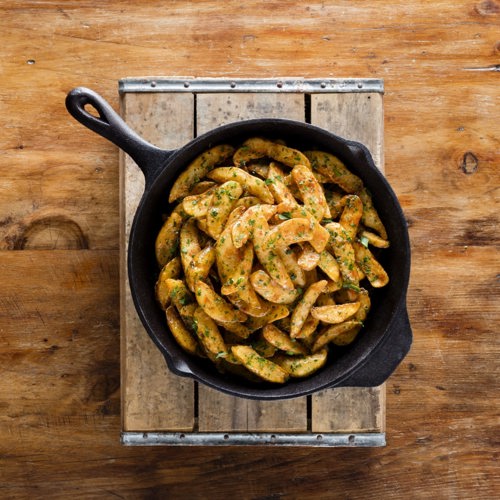 Spicy Wedges With Parsley And Yogurt Sauce
Ingredients
200g strained yogurt 
3 tbsp olive oil
Zest of 1/2 lemon
Juice of 1/2 lemon
1 tsp honey
Chopped dill
Salt
Pepper
Sweet paprika
For Spicy Wedges:
McCain Spicy Wedges 
Olive oil
Rosemary
Chopped parsley
Fresh oregano
Salt & pepper
Preparation
Mix all the ingredients for the yogurt sauce, leaving the lemon, salt & paprika last. Season to taste
For Spicy Wedges:
In a bowl add a small amount of olive oil and add rosemary, chopped parsley, fresh oregano, salt & pepper. Mix the ingredients & spread the mixture on the Spicy Wedges
Cover the bottom of a baking pan with parchment paper and spread the Spicy Wedges in one layer.
Bake the potatoes in an oven with air at 200°C for 20 minutes.
After serving the Spicy Wedges add fresh parsley, lemon zest and accompany them with the yogurt sauce.